I received a letter the other day from Promise Keepers, an end-of-the-year-gift-appeal letter to be exact. The envelope in which it came was a zoomed-in section of this photo, taken by a pastor with his iPad at the Cedar Falls PK conference this year (which I attended with several men from my church, and you can see me in the photo below). The photo was intended to be just a photo of a bunch of guys worshiping Jesus together at this men's rally. However, after taking a closer look, the photographer noticed that in the center of the stage there appeared to be an angel manifested, right there in the center of the worship band. PK picked up the photo and has gone berserk with it, using it for all kinds of publicity purposes, including this year-end fundraising letter and the envelope in which it arrived.
Here is the photo (with a terrible Photoshop job done by me to show you where I am in relation to the "angel"):
The caption to the photo is a quotation from Matthew 1:20 (it's actually a part of Matthew 1:20): ". . . and the angel of the Lord appeared to him in a dream. . ."). It appears again at the top of the letterhead with faux handwriting font pointing to it saying, "This is not a doctored photo!" The entire appeal letter is focused on this "appearance" of the angel at the Cedar Falls conference, including this section of text:
God uses angels as messengers to convey phenomenal news. And when God visits, the people feel extremely blessed. Promise Keepers was blessed to receive a very special message from an angel this year. We've suspected that angels joined us in worship, but now we have the photo. . . . men worshipped loudly, forcefully, vigorously, and whole-heartedly! That's when the angel appeared, during the praise and worship as men confessed at the altar.
Here's THE MESSAGE that we believe God was sending through that angel - He is pleased with our depth of spiritual pursuit. He is pleased with our focus on the Word of God. He is pleased with the impact of the ministry of Promise Keepers. (all spelling, punctuation, and emphasis original)
The letter is "signed" by PK President and CEO, Raleigh B. Washington, and by Chariman Emeritus/Founder Bill McCartney. I would hope that, like Mark Driscoll, they themselves did not write this but have a team of marketing people to write it. At least then they could claim ignorance.
Several things drive me nuts about all this. (btw, this is serving as a place to organize my thoughts before I write PK a letter of complaint) One is their taking Matt. 1:20 out of context completely and using it in conjunction with the "angel" photo for fundraising purposes. That verse describes what happened to Joseph after he learned that Mary was pregnant before they had been together as husband and wife. Joseph planned to divorce her quietly, but an angel appeared to him in a dream to tell him the truth and to tell him not to be afraid to take Mary home as his wife. It was a one-time, unique appearance for a specific purpose, and it has nothing to do with what happened in CF. Additionally, PK has never (to my knowledge) played it safe with this image with a statement such as, "while this is probably a well-timed capture of a lens flare + reflection of the stage light on the floor, if it is an angel, then . . . cool!" From the moment this photo was made public, PK has loudly and carelessly flaunted it as proof of angels at PK conferences and has commented on their facebook page with numerous other Scriptures taken out of context because they have the word "angel" in them (such as Psalm 34:7: "The angel of the LORD encamps around those who fear him, and he delivers them."). They have done nothing to prevent a hyperbolic, superstitious, blind acceptance of an obvious photographic light effect. Talk about a confirmation bias!
They have embarrassed themselves and Christians in general who also will fight tooth and nail for its "obvious" angelic reality. Listen, people: I was there. I had a great line of sight to the entire stage. There was a moving spotlight behind the keyboardist (under the arrow) that was shining in the direction of the photographer. You can see similar lights (an orange-ish and a pink-ish one as you move from right to left at that same height) on the stage, some of which are the same color as the "angel"! (For example, look just above the guy in the orange shirt by the American flag) Why does that fact escape these people? And why would an angel only appear in one man's camera, when there were undoubtedly hundreds of other photos taken about that same time but from different angles? If there were an angel (one that, apparently, can only be seen by cameras), why aren't there more photos?
Here is a photo I took during the Lincoln Brewster concert (he used the existing lights and did not set up his own):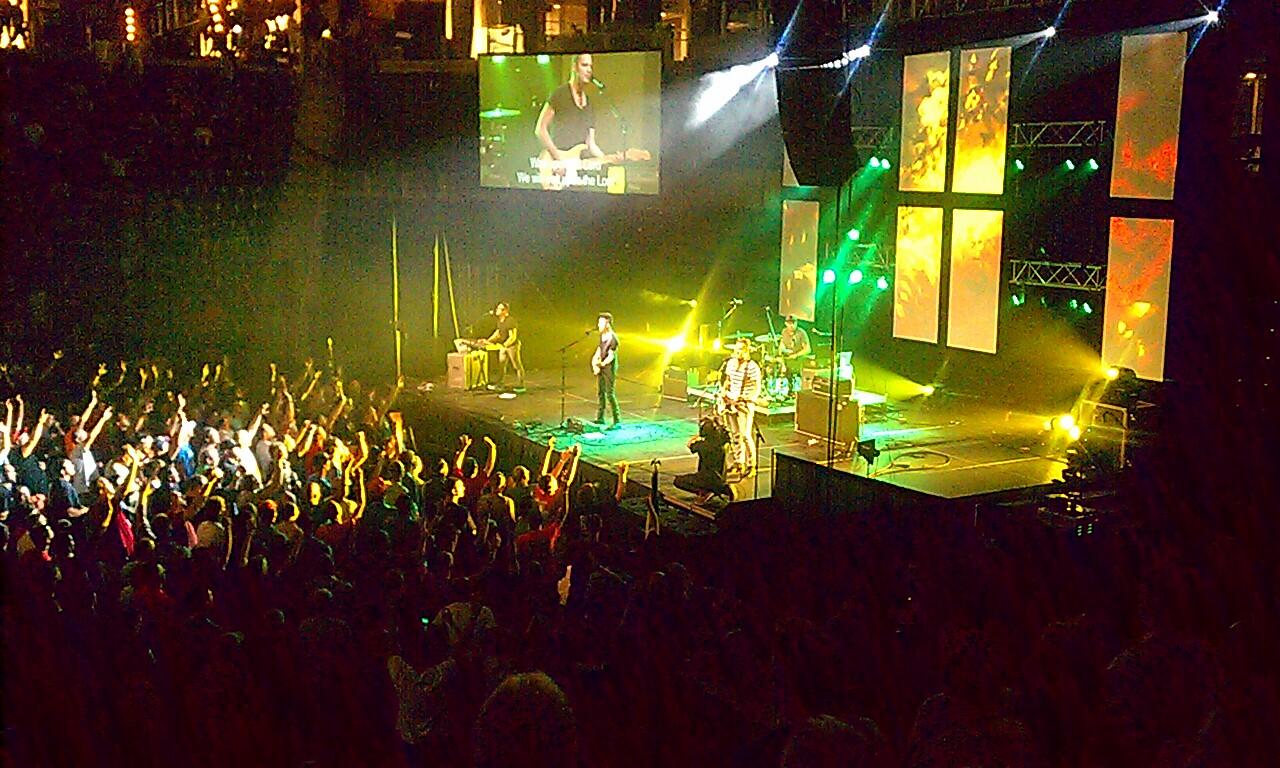 To the right, you can see one of the swivel lights on top of a large box. That is the light shining in the photog's eyes in the angel pic. Yes, the lights can change color. (You could almost argue that the Holy Spirit appeared in the form of a dove in this photo, right behind Lincoln Brewster at center stage!)
I suppose what irks me the most is the combination of the fact that the angel photo is easily explainable as a case of strong lights+perfect timing/angle, and the fact that PK is using this for pure propaganda, now including a shameless "you should give us money because, look, an ANGEL appeared (to one person's iPad) at one of our conferences (not any others), which clearly can mean only one thing: God endorses PK's mission."
Do I believe that PK is a good ministry to men? Yes. Do I believe that they should keep doing conferences? Yes. Their message is absolutely right: be the man God called you to be - love, cherish, serve your wife and family, be there for them, be sexually pure, be bold for Christ. But do I believe they should advertise, promote, and fundraise with this photo? Absolutely not.
It's desperate.
It's ignorant.
It's embarrassing.
It's manipulative.
PK, you can do so much better than that. I'm really disappointed.